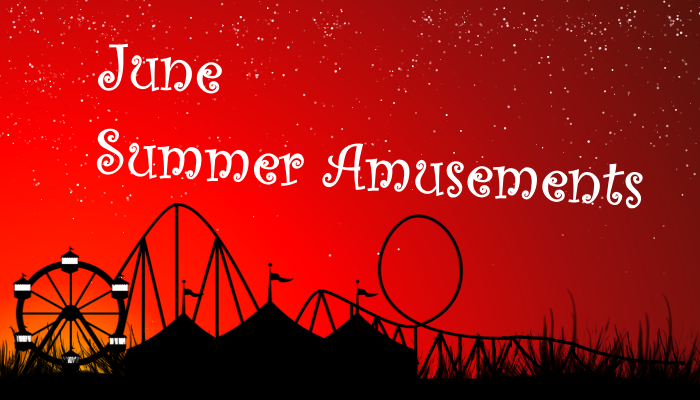 Monthly Writing Theme: June
Are we really in June already? Where is the year going? I know most of us (especially those in education) are looking forward to the summer break, but for many it is already here. The sun is shining bright, the tinkling of ice cream vans can be heard on the lush green parks and the summer carnivals are beginning to appear. It's prime season for theme parks and so the monthly writing theme for June will be focused on summer amusements. 
Inspiration for this month's theme
After wracking my brain for a good theme this month, a friend (without hesitation) insisted on rollercoasters. I almost dismissed the idea, but after some consideration – and a long conversation about our favourite theme parks and rides – my brain was buzzing with ideas. I began to think of all the possibilities around theme parks. They're exciting, bright and colourful, yes, but they're also inherently creepy. They're a place where the imagination can run wild. Theme parks and carnivals have inspired brilliant books like The Night Circus and The Museum of Extraordinary Things. With that in mind, here are the latest offerings from the writing prompt machine:
I'll be honest – this is me. Rollercoasters terrify me, especially the ones that go upside down. Next time you're waiting to go, take a look around at the other riders – chances are the one with their eyes squeezed tightly shut is me. So imagine being trapped in that experience, unable to see. Imagine the sounds. Now imagine when you open your eyes in the silence that follows…
If you Google "abandoned theme parks" your screen will be filled with nightmare fuel. Splintered scaffolding around deserted coaster tracks. Cracked and rotting animatronics staring with blank white eyes. Many people spend their free time exploring the ruins of old theme parks like these dotted across the world. I wonder why it is that most of the time, they're not demolished or replaced… just abandoned and left to decay?
I hope you enjoyed the prompts for the monthly writing theme for June. If you are inspired to write from any of these, please share your short stories in the comments or @tonimoth. 
Many thanks to @themeparkutopia for the inspiration. If you love theme parks and rollercoasters, check him out on Instagram!